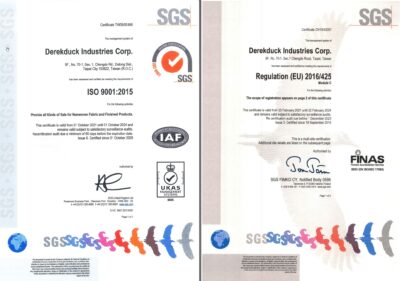 With more than 30 years of experience, we have been devoting into innovation, R&D, and the creation of body protection that are both safe and comfortable. DEREKDUCK is one of the most professional manufacturers in the industry and there are 3 key strengths that make us stand apart from regular manufacturers.
High Efficiency
As the Asia market leader in the PPE industry, our state-of-the-art facility ensures a high-quantity and high-quality production. Automation facility help us to produce the greatest results, from production to finished product inspection.
Quality Assurance
DEREKDUCK quality assurance system is inspected and certified by SGS and fully meet the requirement of Regulation (EU) 2016/425 (Module D). We are also an ISO 9001:2015 certified company and a registered supplier for the US FDA.
Tailor-made
A standard product can protect wearer from hazards, yet it may not be the perfect fit for every industry. To fulfill your need, we offer tailor-made services to create the best product for your frontline workers.
Our tailor-made process

Step 1_Product concept & prototype
Professional Account Manager will quickly aid in understanding what the customer needs, designing the product to fit in a particular working environment, and producing a prototype sample based on the concept.
Step 2_Validation
Customers/Users can evaluate whether the prototype is a fit for their working environment. Adjust the product if needed.
Step 3_Quatation
Provide quotation once the prototype is confirmed.
Step 4_Mass production
Start mass production and provide training materials upon request.
Step 5_Tracking
Follow up feedback and adjust for future reference, if necessary.